WPCUG INFOLINE
914-227-2495
24 / 7 Updates
aaa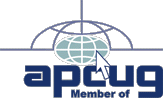 About
---
Table of Contents
Introduction
General
History
Organization
News and press releases
Location
Activities
Accomplishments
Benefits
Mission
Constitution - PDF (previous constitution - PDF)
Maps


Introduction -

We are a nonprofit computer club located in Westchester County, New York. Our goal is to increase the computer knowledge of our members and our community.

Our activities include monthly general meetings, over a dozen monthly workshops. One of these workshops is Westchester PC-Renew where our members refurbish computers & provide them free of charge to the community.

See the workshop page for information about our workshops.

General -

The general meetings are currently held at Keller-Williams Realty in White Plains. General meetings start at 7:00 pm on the first Thursday of each month. These meeting start with a Q&A session on any topic that attendees may have & our experts reply to these questions. The Q&A session is followed by general announcements of interest & this is then followed by the feuture presentation scheduled for the month.

The general meetings are open to all - both members and non-members, free of charge.

Workshops are held at either the White Plains Middle School or the Stepinac High School in White Plains or One Wartburg Place, Mount Vernon. See the Calendar for the specific location of a scheduled workshop. (Calendar) .

The current dues are only $50.00 per year which includes all meetings and workshops (at no additional cost) for all members of a household. Also included is subscription to The Westchester PC News, reduced rate magazine subscriptions and computer books, free shipping from PC Connection, and the opportunity to win free showcased software.



History -

The Westchester PC Users Group began in early 1981, at the dawn of personal computer age, as an informal gathering of experienced and novice users eager to keep up with the rapidly expanding microcomputer industry. Regularly scheduled monthly meetings began in 1982; the first officers were elected in 1983; and the first newsletter issued in 1984. The Group incorporated as a not-for-profit educational organization in 1985.

In the beginning, computers were large, costly, systems available only to the very largest companies who could afford to purchase, maintain, and operate them. Most applications had to be programmed individually to meet the needs of each firm. By the late '70's, IBM, Kaypro, Commodore, and Tandy, were developing the first personal computers for the consumer market place. Soon, people across the country, who believed that the PC could improve their productivity and the quality of their lives, were becoming attracted to this emerging technology.

Westchester County was especially significant, because it was the location of the T. J. Watson Center, IBM's premier research facility in Yorktown Heights. And, so it was that, during the early '80's, a small group of PC enthusiasts, aware of the potential inherent in this new medium, joined to form the Westchester PC Users Group. By 1986, the WPCUG had 40 members, and held monthly meetings at the Scarsdale Public Library.

Several years ago, WPCUG membership consisted largely of advanced users who met with fellow aficionados, programmers, and consultants, at monthly meetings where they kept up to date with advancing technology and exchanged information. Since the recession, corporate downsizing, and the layoff of large numbers of mature, experienced, employees, WPCUG's role has changed significantly. Today, its membership is about 170, and the Westchester PC Users Group is meeting today's needs ...




Organization -

WPCUG is governed by elected officers and a board of directors who serve without pay. It has no paid staff; volunteers handle all operations. Income from membership dues is used to pay for meeting space, technical equipment, newsletter production and mailings. A listing of the Board of Directors and Officers can be found in the Members Section



Locations -



General meetings:


Are currently held at Keller-Williams Realty in White Plains



Workshops:


White Plains Middle School in White Plains
Stepinac High School in White Plains
One Wartburg Place in Mount Vernon

(

maps

)


Mission -

Over the last decade, computers have become thoroughly accepted as a fact of life. Today, people know that all vocational skills will inevitably be intertwined with the computer. In the current environment, the Westchester PC Users Group group has become an oasis for increasing numbers of adults seeking to improve their computer literacy, often from scratch. Even though every child is now expected to learn these skills early on, many adults and seniors, are still entering the computer environment, anxious and confused.

Although they are increasingly necessary, computers are very complex systems and can be most daunting. They can be very difficult to learn, operate and maintain. In fact, it's important to understand that no single person can possibly know everything about computers. There are hardware specialists, software specialists, applications specialists, programmers, software engineers, system architects, and networking specialists -- just to name a few of the many specialization categories in the personal computer environment.

Enter a typical "Barnes & Nobel" bookstore and look for the "Computer" section. You'll find that the assortment of books written to aid in the learning of computer related subjects consumes upward of 500 linear feet of bookshelf space., a tenth of a mile in length. A profound resource for the vast technology resident in today's personal computer.

In brief, WPCUG's mission is to raise the level of computer literacy in our community. Critical, is the concept that we learn best when we're among others committed to learning the same subject. Members help one another. The sharing of knowledge and insights creates a synergy, reinforcing, and accelerating the learning process.

Activities -

Today, the Westchester PC Users Group holds 12 monthly feature presentations each year. WPCUG is an exhibitor at numerous computer shows in Westchester County. WPCUG publishes and distributes an informative monthly newsletter. WPCUG has its own website. It conducts "Beginners" courses twice a month for new members and it sponsors 20+ Workshops in a variety of computing specialties (e.g. Internet, Networking, Windows'98, Desktop Publishing, Investments, etc.) each month.



Accomplishments -

WPCUG volunteers have been called upon to provide help and consulting services to numerous community service organizations including: The HUDSON VALLEY ASSOCIATION OF TECHNICAL SOCIETIES, TONY BROWN'S CYBER LEADERSHIP PROGRAM, and the SAINT CABRINI NURSING HOME. Activities of the WPCUG have been reported by the GANNETT WEST/ROCK NEWSGROUP, The NEW YORK TIMES, and WORLDWIDE MONITOR RADIO.



Benefits -

The PC users' group is an ideal point of entry for one's own computer education, or "job re-training," program. A solid investment (from a cost/benefits perspective), most will find the Westchester PC Users Group to be a good starting place. For some, WPCUG has been a useful networking point for re-entry into the job market. A computer is absolutely necessary for initiating an entrepreneurial effort. Every productive "home office" develops around specialized software including: money management programs, word processors, databases, telecom and fax packages. Computing is not without problems. For the same reasons that every large company has a Computer Support Center, every entrepreneurial entity or every family must develop a computer support network. The best asset a PC owner can have for PC-related information, education, and support, is membership in the Westchester PC Users Group.

PLEASE NOTE - ALL CURRENT MEETING ARE VIA ZOOM ONLY
Maps -
The maps shown below are interactive - click Directions & enter your origination point for directions.


White Plains Middle School (MS) - meeting location


128 Grandview Avenue
White Plains, NY 10605

Enter through center door; turn left, look for the stairwell on the right; go up one flight and room 265 is straight ahead.


View Larger Map
---
PLEASE NOTE - ALL CURRENT MEETING ARE VIA ZOOM ONLY
Stepinac School - meeting location
950 Mamaroneck Avenue, room G1
White Plains, NY 10605


Driving south on Mamaroneck Ave, look for Gedney Way & the tennis courts on the right.

Then a little more than 1/4 mile from Gedney Way is the driveway entrance to the school.

When you see the second school speed zone sign, prepare to turn right into the Stepinac school driveway.

Enter driveway on the north side of the building which takes you to the rear of the school building.

Do

NOT

take the entrance at the center of the building - it does not go to the parking lot. See satellite view.
The parking lot is behind the building; Once you've parked, the building's entrance is to your left, near the corner of the building; take stairs one flight down and then turn right to room G1.

If you prefer to use an elevator, at entrance, take stairs half flight up & turn left to elevator. Take elevator to 'B' and then turn right to room G1.

* Please note this door may be locked for security reasons so look for someone exiting the building to let you in or a printed sjgn on the door with a phone number to reach someone from the club who can let you in.

The map shown below is interactive - click 'Directions' & enter your origination point for directions.
---
PLEASE NOTE - ALL CURRENT MEETING ARE VIA ZOOM ONLY




Keller-Williams NY Realty - General

Meeting location



120 Bloomingdale Road, First Floor
White Plains, NY 10605

Please note effective 11/1/19 and until further notice. Parking for Keller-Williams events will be across the street in the Bloomingdale's parking lot. Please be careful crossing the street to 120 Bloomingdale Rd.

After crossing the street, you can walk up the driveway walking path and the first building you will see is #120. A flashlight or the flashlight from your phone might be usefull.


---
PLEASE NOTE - ALL CURRENT MEETING ARE VIA ZOOM ONLY

Wartburg -
meeting location
One Wartburg Place
Mt. Vernon, NY 10552


Directions to WPC-Renew at Wartburg - using map below